Our Memorandum & Articles of Association govern what we can do and how it will be administered on behalf of the membership.

Click here to read our Memorandum & Articles of Association.
Byelaws
Click here to read our Byelaws
Data Protection
Data Sharing Agreement with University of Hull
Operating Policies
The Hull University Union is run in accordance with a number of operational policies and procedures. These are put in place by the Trustee Board to ensure the Union complies with its legal obligations and sector good practice. These policies remain in place until revised or revoked by the Board. Where appropriate we will seek student input to the generation of these policies
Further policy documentation to be added during November and December 2018
Union Council Policies
Hull University Union also has a number of democratically approved policies, which are passed by students through our Union Council.
Updated Union Council Policies will be added during November and December 2018
CODE OF PRACTICE – EDUCATION ACT 1994
Revised August 2013
1. Introduction This Code of Practice details the arrangements agreed between the University of Hull, hereinafter referred to as the University, and Hull University Union Limited, hereinafter referred to as HUU, as required by the Education Act 1994 (Clause 22[3]).
2. Status of HUU Although HUU is a company limited by guarantee (Company No 8475916) and a registered charity in its own right (1152549), it is an integral part of the University, established in accordance with the Charter of the University (Clause 103). HUU is fully accountable to the Senate and Council of the University and subject to any agreements, regulations or directives that the University authorities may from time to time prescribe. Such agreements, regulations or directives must allow HUU to remain within the law particularly in regard to the Charities Act 2006.
3. Accountability of the Principal Officers of HUU The Principal Officers of HUU, as prescribed in the HUU Memorandum & Articles of Association (Articles), are the Sabbatical Trustees of HUU and accountable to the University authorities for the management of HUU, in accordance with the relevant regulations as approved from time to time by the Senate and Council of the University, for the operation of HUU in a fair and democratic manner, and for observance of the University's Code of Practice on Freedom of Speech drawn up pursuant to Section 43, Education (No 2) Act 1986 and the Code of Practice pursuant to the requirements of Part 2, Education Act 1994.
4. HUU's Articles HUU's Articles and any amendments thereto are to be approved by the Senate and Council of the University; HUU's Articles are to be reviewed by those bodies at intervals not exceeding five years. The University authorities will ensure that HUU's Articles provides, inter alia, for the election of Principal Officers, in terms of the Education Act 1994, to be by secret ballot in which all full members are entitled to vote, and to further ensure that such elections are fairly and properly conducted. Such Principal Officers or those holding paid elected offices shall not hold office for more than two years.
5. Membership of HUU All registered students of the University will be full members of HUU, unless they choose not to be members. Having opted not to become a member or having withdrawn from membership, a student is not entitled to take up, or renew, membership within the same academic year. Students who have opted out of membership of HUU will be entitled to equal access to the services and activities subject to the following conditions:
(a) He or she will not be permitted to:
(i) vote in HUU elections or referenda;
(ii) stand for election to any post in an HUU election;
(iii) hold office in any HUU club or society.
(b) He or she may be charged a differential rate of membership fee to join a club and society, or to attend a function. Such students who join a club or society, or who use the facilities provided by HUU, are subject to the same regulations which apply to members of HUU.
Any student wishing to exercise his or her right not to be a member of HUU is advised to consult one of the Principal Officers of HUU before making a decision, in order to ensure that he or she possesses all the necessary information on which to base the decision. If a student chooses not to be a member of HUU, he or she must inform the HUU President and the Registrar and Secretary in writing.
6. Finances – proper conduct of affairs HUU is responsible for ensuring that funds provided to it by the University are used only in accordance with the Charities Act, the Education Act 1994 and any other statutory requirements or conditions that the University may prescribe from time to time. The Chief Executive is responsible for advising the Principal Officers of HUU if any action or policy appears incompatible with the terms of the Code of Practice; if in doubt he or she is to take the advice of either the HUU solicitor or the University auditors, which is the more appropriate. The Chief Executive is also required to satisfy the University authorities that the finances of HUU comply with all such conditions contained therein.
7. Financial controls HUU is required to keep accounts and accounting records in accordance with normal professional accounting principles, and to maintain a sound system of internal financial management and control. In particular HUU is to:
(a) prepare budgets for the following financial year and obtain approval of such budgets from the University authorities, at least one month before the commencement of the financial year. The budget is to be drawn up so that income is at least sufficient, taking one year with another, to meet the total expenditure;
(b) ensure that there is a fair and equitable system for the allocation of resources to clubs and societies and advise all students of the conditions and procedures relating to such allocations;
(c) provide periodic reports of income and expenditure for consideration by the University authorities, at such times and for such periods as may from time to time be determined, and to make them available to all students;
(d) prepare accounts and financial reports for audit by external auditors; these are to include a list of all external organisations to which HUU or any of its official bodies have affiliated, together with the details of such expenditure.
The University authorities will require HUU to repay in whole or in part any funds expended contrary to this Code of Practice.
8. Affiliations to external organisations HUU is required to publish and display on an Official HUU Notice Board any intention to affiliate to an external organisation, stating the name of the organisation and details of the subscription or fees to be paid. A full member of HUU, if supported by 5% of the Full Time Equivalent voting membership, may request that the question of continued affiliation to an external organisation be decided upon by secret ballot in which all full members are entitled to vote; such a request may only be made once in any academic year.
9. Complaints procedure (See SO 8007) Any registered student of the University may make a complaint concerning his or her dealings with HUU or make a claim of unfair disadvantage, where the student has exercised his or her right not to be a member. The complaint will initially be dealt with in accordance with the internal HUU complaints procedure. If the student is not satisfied, the matter is to be considered by a panel established by the University authorities. If the student still remains dissatisfied after the second stage, the matter is to be referred to an independent and external person nominated by the University authorities. Complaints are to be dealt with promptly and fairly and, when a complaint is upheld, there is to be an effective remedy.
10. Status and dissemination of this Code of Practice This Code of Practice, as amended by the Council of the University in consultation with the Principal Officers of HUU, has the status of a University Regulation. It will be brought to the attention of all students once a year and published on HUU's website and made available in hard copy on request.
Approved : University Council Nov 2013
Update 2016/17
In 2014/15, the Students' Union President commissioned a "Governance Review" to look at our democratic structures and processes and ensure that we are still relevant to our members – you! We surveyed students in 2015 on how they want to be represented and the majority of respondents told us that they want to be represented by academic area. Students also told us that they want to be more involved in the Union's decision making-processes and make change. In response to this, we held a first referendum in December. You can find out more about the changes we are proposing here and hear from our Student Officers what the next steps are. We are committed to continue the review of of our governance structures and democratic processes in the next academic year.
'At the start of my second term as President, I ordered a governance review of Hull University Union. Whilst this may sound really boring, it's actually all about looking at where decisions are made, who makes them and how HUU can best represent it's members.
This hasn't happened in a long time, and what this has meant are that our democratic structures – Union Council, our zones – aren't really fit for purpose anymore.
So, what we wanted to do was actually ask students how they wanted to be represented.
From this, we picked out 10 key principles that we think our members want us to adhere to, when creating a new democratic system.
There are four here, as infographics, and attached are the other 6.
We plan on using the things our members have told us – via survey, focus groups and feedback – to create a new democratic model, which will hopefully mean that students will be even more powerful in making their voices heard.
HUU 2014/15 President,
Richard Brooks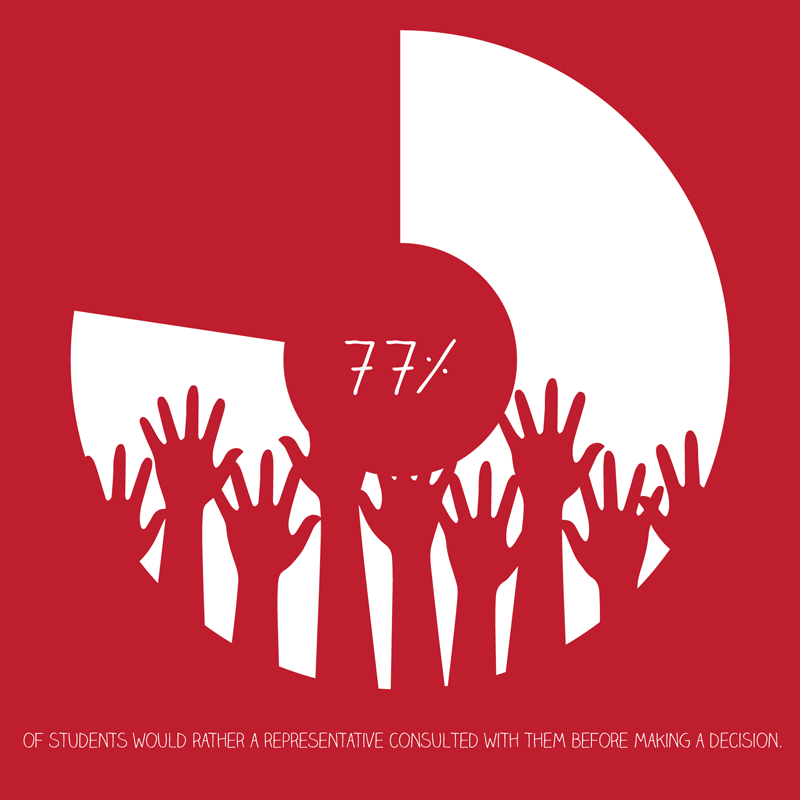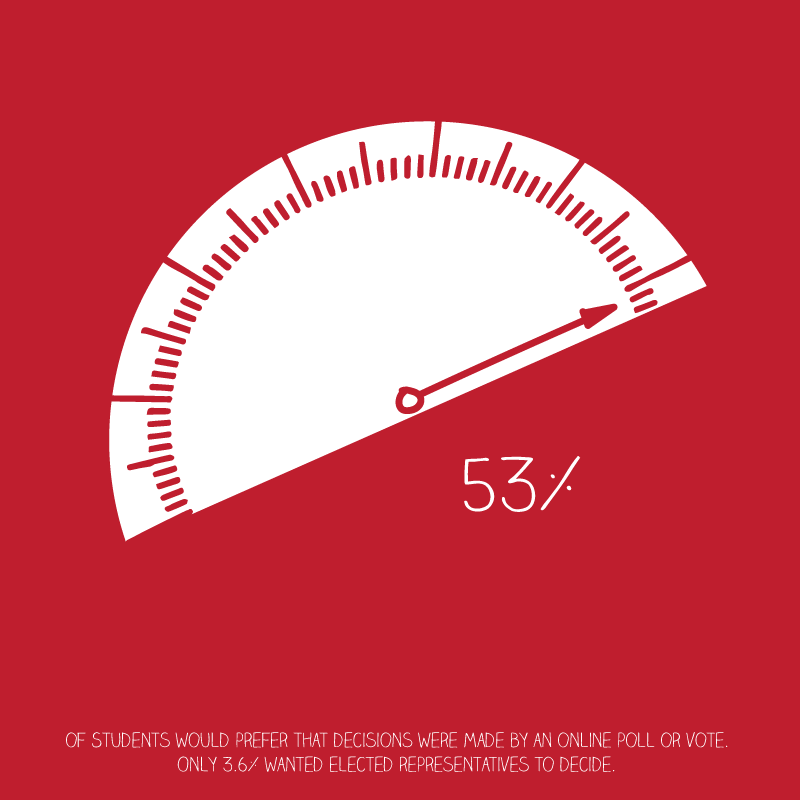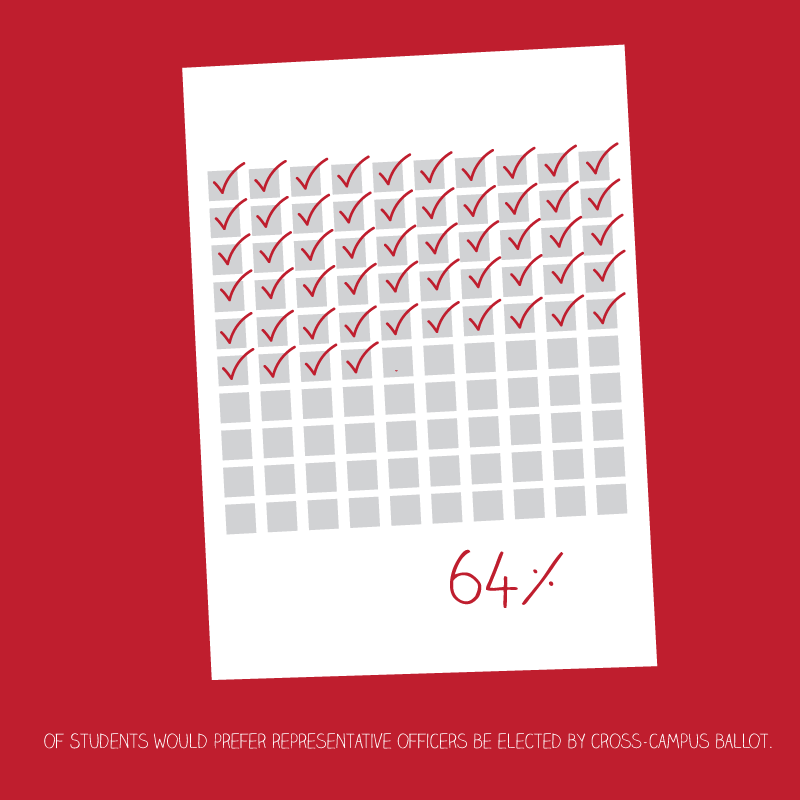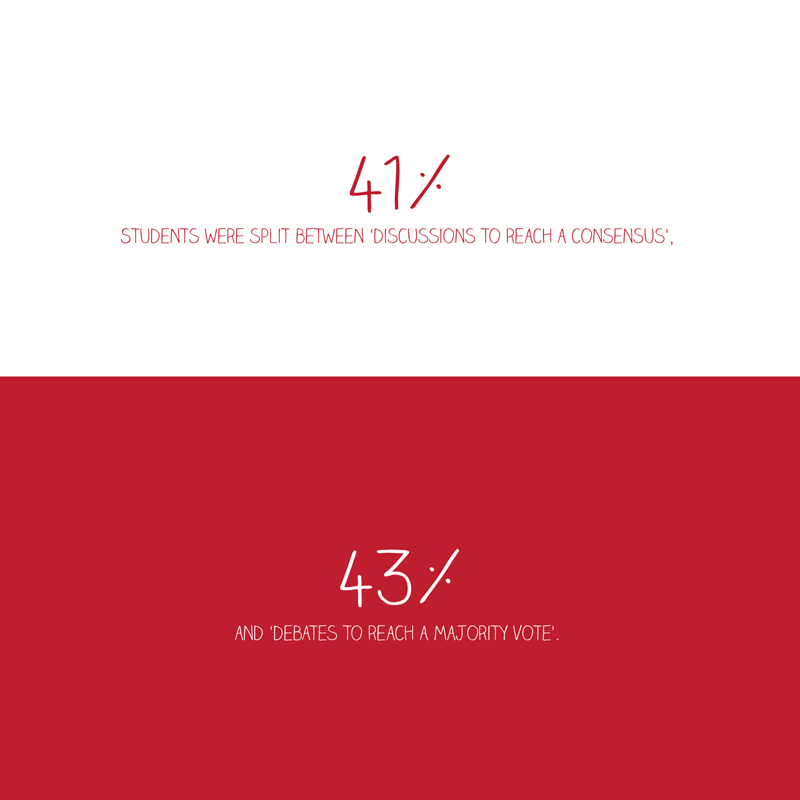 Key Principles
Taken from: Strategic Planning 2014: Students' Motivations, Experiences and Priorities, a Report from Alterline, April 2014
We started with the basic ideas that HUU should be governed on the basis of what students want. Looking at the findings of the report, we came up with these four key principles:
Students should feel that they can easily affect HUU.

Students should be able to understand HUU.

All representatives should be credible.

HUU should prioritise outputs over process, with particular focus on effectively representing the views of students to the university and providing experience-enhancing, accessible extra-curricular activities.
---
Key Principles
Taken from: The HUU Governance Survey, January 2015
Representatives should consult with students before making a decision.

The priority for representation should be education and academic groupings.

Decisions should (where possible) be made by an online poll or vote.

Students should identify issues and decide which solutions to implement. Occasionally students should be involved in analysing different solutions.

Representative or voluntary roles should be selected by interview or random selection over election.

The decision making process should prioritise the quality of the outcome. After that, accessibility, transparency and clarity should be the priority. After that, cost and speed should be the priority.

Decision making should be undertaken by: campus wide votes; surveys and questionnaires; and large, accessible meetings.

Representative Officers should be elected by cross-campus ballot.

Students want to bring issues they care about to staff. If staff are unavailable, a body of elected students should hear issues from students.

Students have no preference for either adversarial debate or deliberative discussion.
From The HUU Governances Survey:
(Some of the results are scored as a percentage of the students who filed out the survey. Others are given a positive or negative score between +1 and -1).
77.3% of students would rather a representative consulted with them before making a decision.

Students would rather be represented the basis of their academic definition (course, department, faculty, year, type).
The average score for non-academic representation was -0.2, for academic representation it was +0.3. There was some demographic variance, i.e. more women (-0.04) agree that they would like to be represented on the basis of their gender than men (-0.31). The most preferred basis for representation was course, the least preferred was sexuality.

Students would prefer that decisions were made by an online poll or vote. Only 3.6% wanted elected representatives to decide.

Over 50% of students said that they would take part in 'identifying issues to be addresses by the union' and/or 'deciding which solution to implement'. Over a third of students said that they would take part in 'analysing different solutions to these issues'. However only 17% of students said they would be interested in 'implementing the decision'. 12.5% of students were not interested in taking part in any stage of the decision making process.

Students would rather be interviewed than elected or randomly selected. Students scored interviews (by students or staff) +0.12, random selection +0.07, and elections (limited or cross-campus) -0.06.

The most important factors in decision making is the quality of the outcome (+0.65). Accessibility and clarity/transparency are also important (+0.34, +0.32). Cost and speed were less important but still received a positive score (+0.14).

When asked to model their own decision-making structure, student clearly favoured three methods. Campus wide ballots where everyone gets a vote (65.2%), surveys and questionnaires (55.6%), big meetings open to all students (46.7%).

Students would prefer representative officers be elected by cross-campus ballot (63.6%).

Students said they find it easiest to take issues they care about to 'an appointed member of staff' (34.5%) and 'a body of elected students' (30.32%).

Students were split between 'discussions to reach a consensus' (40.7%) and 'debates to reach a majority vote' (43.2%).