#NeverOK

Trigger warning: This page discusses sexual assault and violence, mental health, racism and other discriminatory behaviours.
What is #NeverOK?
It's a joint campaign between Hull University Students' Union and the University of Hull that aims to end all forms of violence and discriminatory behaviour, including rape and sexual assault, racism, ableism, ageism, homophobia and transphobia, and discrimination based on a person's religion.
Everyone has the right to live and study in a safe and supportive environment.
We are committed to ensuring an inclusive, supportive and respectful environment for all and believe that any form of bullying, harassment or discrimination is #NeverOK.
#NeverOK means we do not tolerate:
Abuse
Emotional or physical behaviour that intentionally harms or injures another person, often to gain control over them.
Anti-social behaviour
Acts that cause harm, distress or discomfort to an individual, a group, a community, or an environment.
Bullying
Offensive, intimidating, or malicious behaviour which can be physical, verbal and non-verbal (e.g. via text or social media).
Discrimination
When an individual or a group of people are treated less favourably based on a characteristic such as age, disability, gender reassignment, marital or civil partner status, pregnancy or maternity, race, colour, nationality, ethnic or national origin, religion or belief, sex, or sexual orientation.
Harassment
Unwanted behaviour that is offensive or makes someone feel distressed, degraded or intimidated.
Hate crime
A crime that is motivated by prejudice based on race, religion, sexual orientation, disability or transgender identity.
Microaggressions
A statement, action, or incident regarded as an instance of indirect, subtle, or unintentional discrimination against members of a marginalized group such as a racial or ethnic minority.
Racism
The belief that someone is inferior because of their colour, ethnicity, nationality or race, leading to discrimination.
Sexual harassment
Unwelcome behaviour of a sexual nature, which could include sexual comments or jokes, touching or sexual advances without consent, and sexual assault.
Violence
Behaviour involving physical force intended to hurt, damage, or kill a person or animal.
This Ends Now
Only one in TEN women students in the UK who experience sexual assault or rape will report it. This Ends Now.
Students at Hull deserve better. We want you to be able to report sexual assault and rape, and to feel supported in this process, so that's why in March 2020 we launched the This Ends Now campaign.
Consent Training
Consent is an agreement between participants to engage in sexual activity. Consent should be clearly and freely communicated.
In 2021, President of the Students' Union, Phoebe, and former President of Inclusivity and Diversity, Evie, worked hard to develop a consent training module in My Journey. Watch the video below to find out more.
Bringing the blame back to the perpetrator
At Hull University Students' Union, we know the victim is not to blame. It's not the way you dress, the way you look at someone or the way you act. That's why we've created a series of posters and digital screens to go up in our venues to remind individuals of this. See below.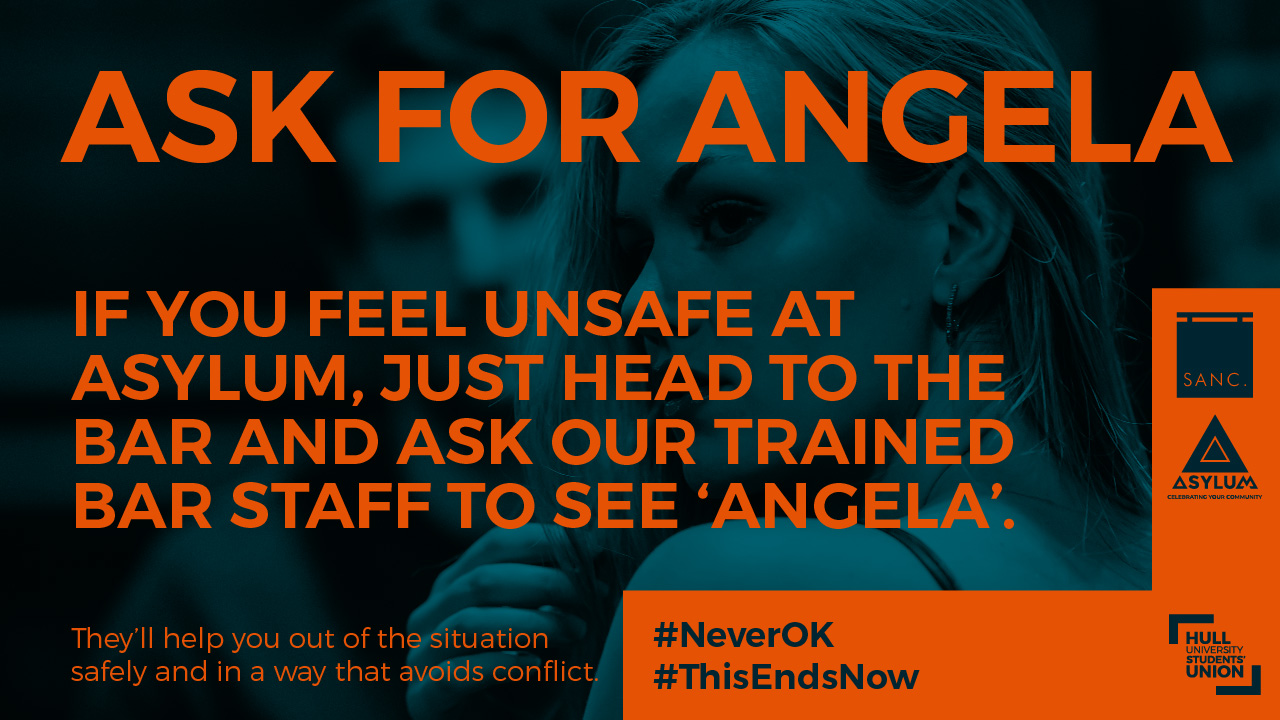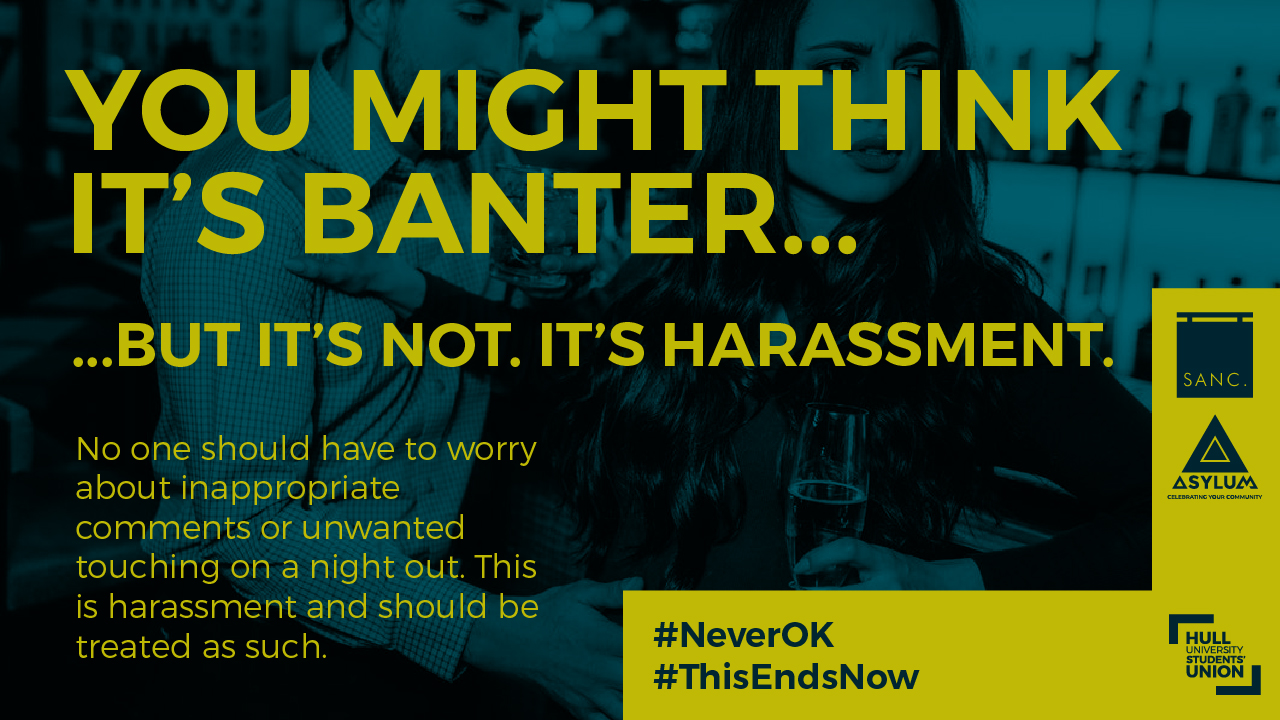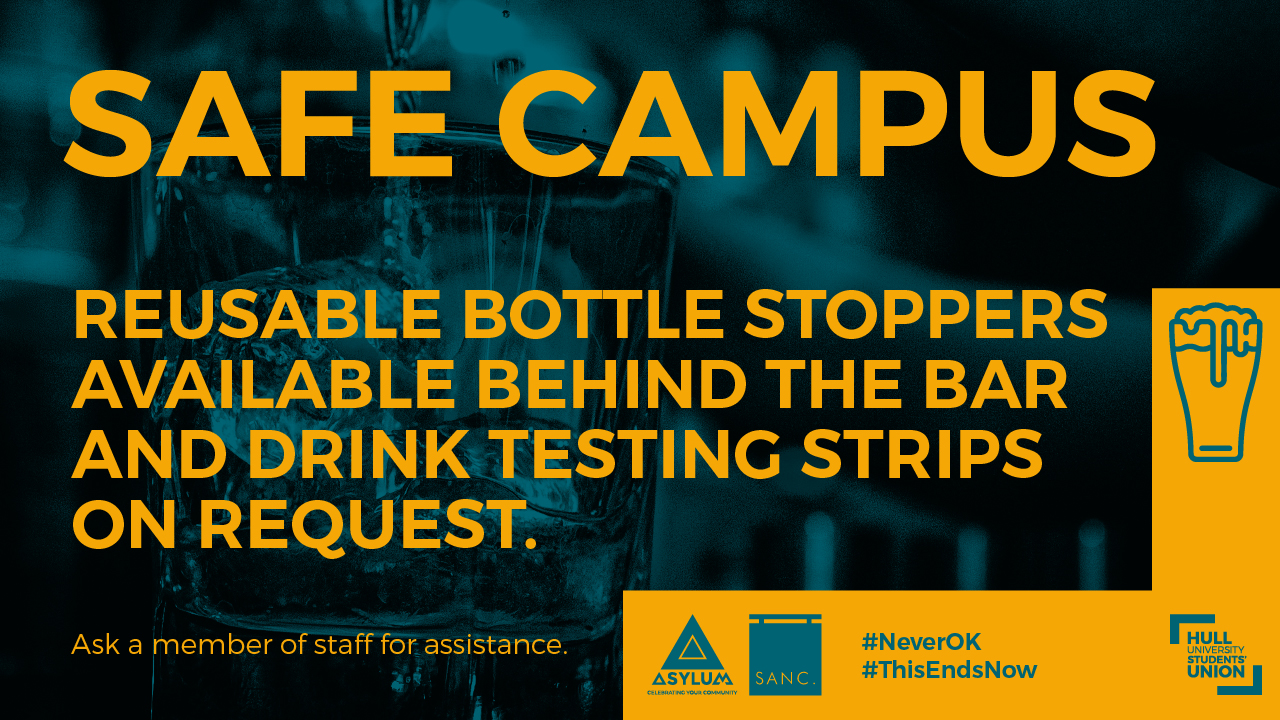 Our venues, safe venues
At Hull University Students' Union, we want to make sure you have an enjoyable, but safe, night in all of our venues. In fact, that's why our nightclub is called Asylum. Have you noticed the names of our other spaces are called Sanc (short for Sanctuary) and Haven? They are all safe spaces.
Staying true to what the name means, we want to make sure your Asylum experience is as special as possible, we've teamed up with some amazing people! From arrival to getting back home, you're in safe hands!
Find out more: hulluniunion.com/places/asylum
Safe campus card
In 2019, we launched our first safe campus card and in 2021, we developed it with updated contact details. The card features contact information for mental health services, sexual assault services and many more.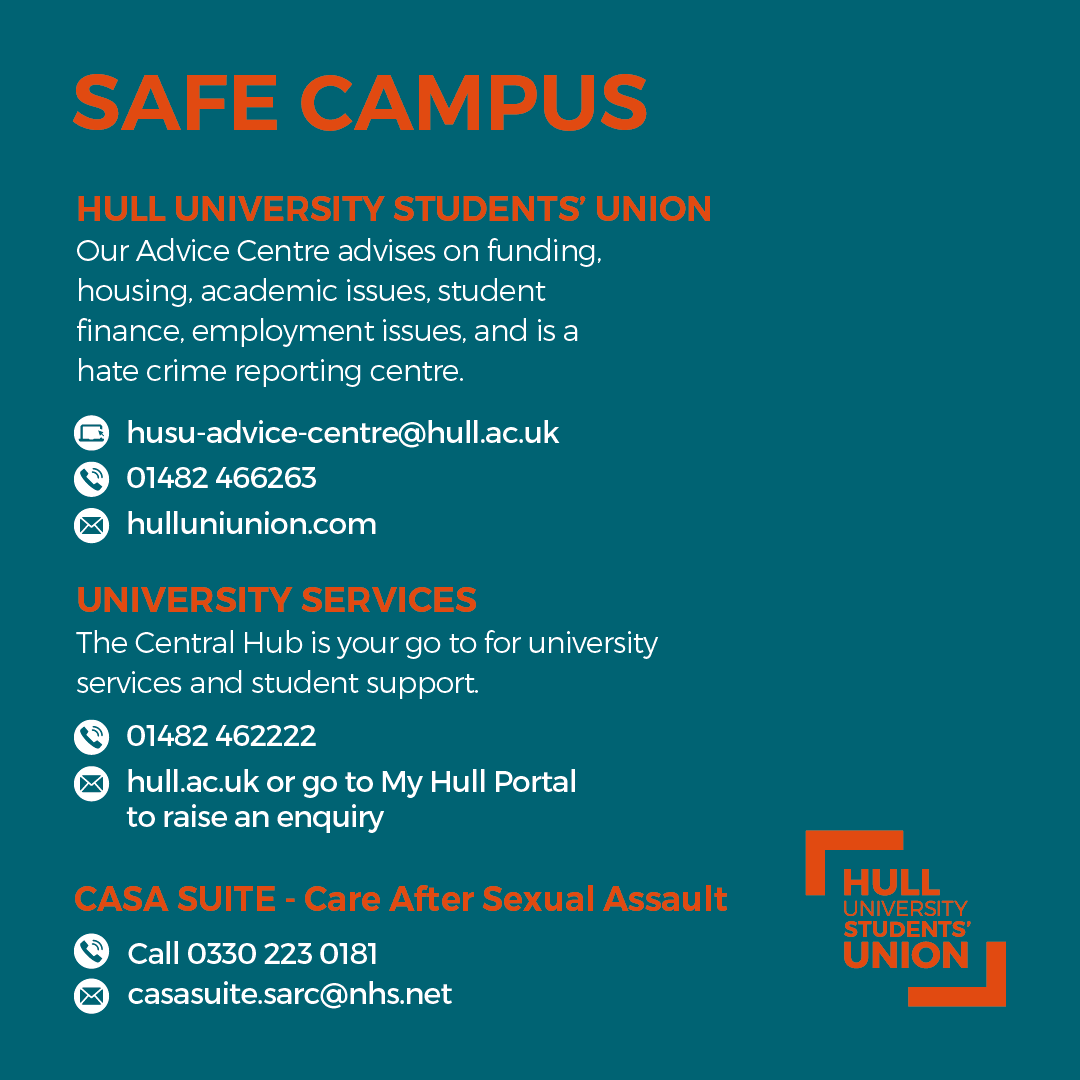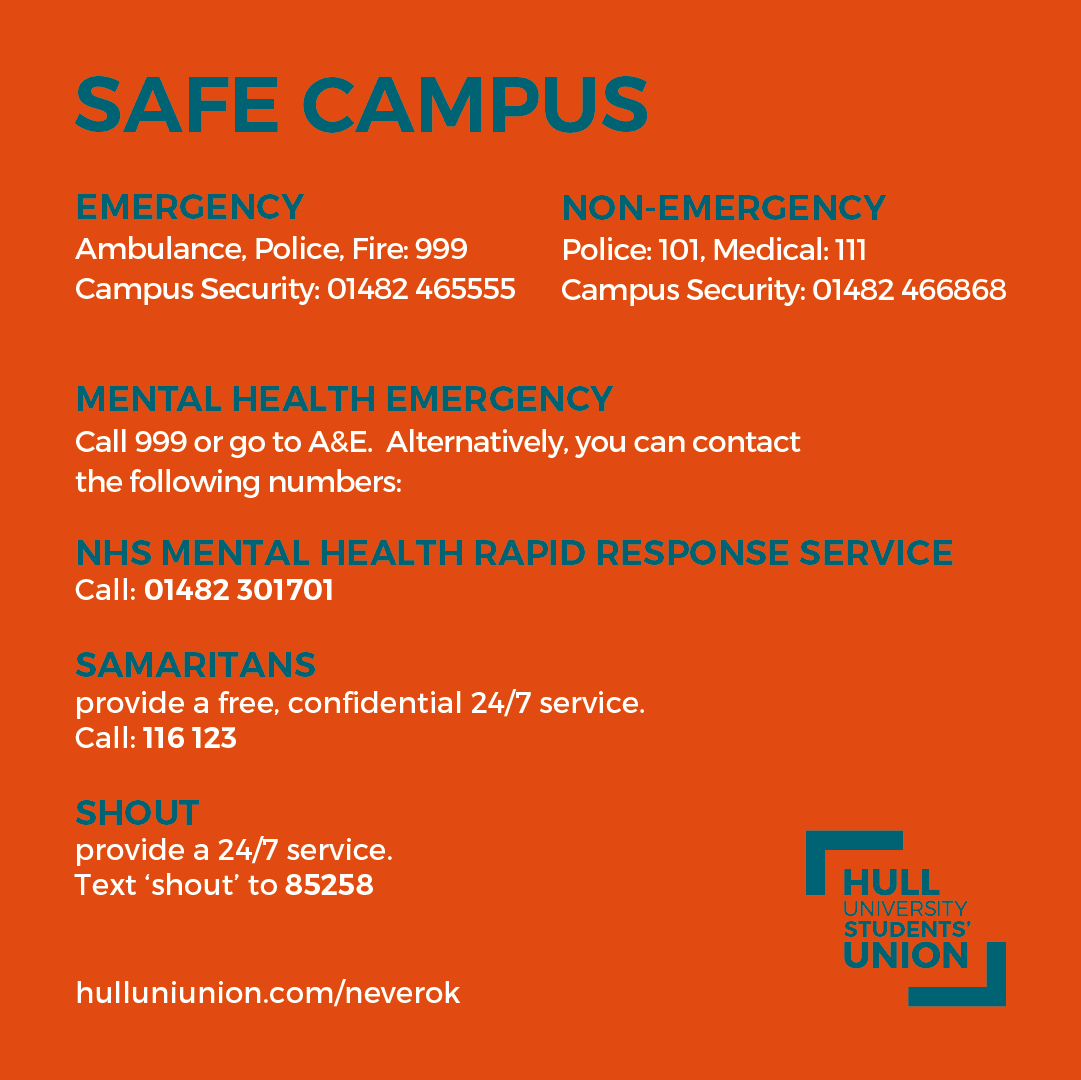 One Hull Of A Woman
One Hull of a Woman is a campaign which was set up by our Student President Team in 2020 in order to allow women to network with other women, find out more about events that are on and the campaigns we're running to improve the experiences of women at the University of Hull! We have been collaborating with the University of Hull and Hull Sport on a number of different projects relating to women's safety, women's mental health, sexual violence, women in sport and women in male-dominated careers. Whatever it is you're looking for, you'll find it here.
Find out more: facebook.com/OneHullofaWoman
Useful Resources