President's Pick of the Week - Battle Re-enactment Society
Posted 29 November 2013
Richard is handed a surprise activity in the interest of celebrating the diverse range of activities happening at HUU!
President's Pick of the Week! In the interest of celebrating and shouting about our fantastic Sports Teams, Societies and groups at HUU, every week we will be throwing Richard in at the deep end as he participates in a surprise activity!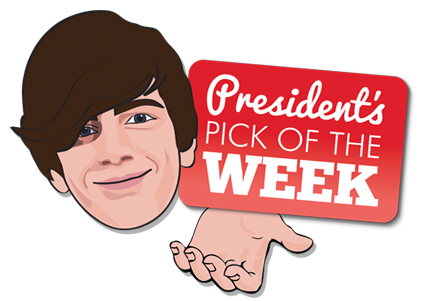 The funny thing is about President's Pick of the Week is that because I have no idea where I'm going; I don't know when I'm going to end up in an awkward/funny position.
I found myself contemplating the oddness of my existence whilst writhing around on the dirt, dressed in a helmet, arm guards and carrying a deceptively heavy sword with the Battle Re-enactment Society.
The Battle Re-enactment Society is a group of men and women who – as they themselves would happily admit – spend their weekends buying armour, learning how to safely fight/kick the crap out of each other and then go to the pub afterwards for a calming drink.
I turned up slightly late to the Lawns (damn you, Cottingham trains), to see a large group of people clustering under the nearby trees of the Lawns Centre. Immediately welcomed, I was kitted up and insured quicker than I could say "How do you hold this sword?"
The afternoon was spent learning basic fighting skills, participating in a 'bar fight' and having several members take their test to progress to the next level of membership (we had a new knight). We welcomed people from York and Bradford on Sunday
What struck me was how much of a family this group of people were, both homely and welcoming at the same time. There was a good group of people who had been doing this for years, and those (like myself) who had never put a helmet on before, let alone been in a battle before.
After a hard day's fighting (I'm genuinely bruised and aching) we went to the Old Grey Mare for some hilarious football punditry ("Footballs not for me. If all the crowd in the stadium had a bow and arrow, now that would be interesting") and generally funny chat around courses and cost of battling, I was off home.
Feeling incredibly satisfied and calm – Battle Re-enactment is great for stress relief, I'm told – I went home to wipe off the mud. If any of this sounds fun to you, I'd definitely suggest getting involved in Battle Re-enactment Society. It only costs £2 to train, and you can get temporary insurance to try out every Sunday, 12pm at Lawns Centre.
One swing of a sword, and you'll be hooked, trust me.