Updated: Jan 2019
Our strategy establishes how we will work towards our vision to empower all students to make their time at University count.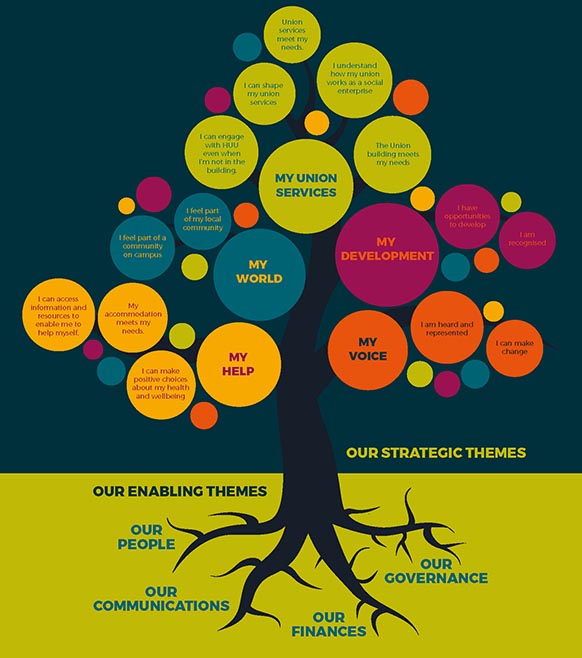 To support the achievement of our strategy, we have a number of enabling strategies that form the roots of our 'strategy tree'. These strategies focus on key areas that are fundamental to our success and critical to the pursuit of our vision. They are:
Our Communications
Our People
Our Finances
Recent work to complete this strategic planning cycle has identified five corporate priorities which we will focus on for the remainder of the strategic plan (2020):
To carry out a corporate governance review and consultation on our democratic governance with stakeholders.
To clarify and fully implement HUSU's pay and reward policy for all employees and workers.
To develop and mobilise a digital strategy for the Union group. With the purpose of improving the student experience and creating efficiency internally.
Working with the University of Hull to complete the planned remodel and refurbishment of the Union group's commercial, social, and office space on the ground and first floors of Student central by June 2020.
To work with the University of Hull to understand, interpret and respond to the impact the challenging Higher Education operating environment is having and will have on both organisations moving forwards.
Our members defined our five member priorities which form the branches of our 'strategy tree'. Under each of our priorities we identified what our members would say if we were we met our aims. This is what success sounds like to us.
Theme 1: My Voice
"I can make change"
All students have the opportunity to participate in and affect change in their University, Students' Union and the wider community.
"I am heard and represented"
Our diverse membership is reflected in the elected student body
We listen to and represent our members throughout their student journey
We are recognised as the facilitator of the student voice
Theme 2: My Help
"I can access information and resources to enable me to help myself"
We provide flexible advice and support mindful of our members' unique circumstances.
We provide advocacy for students on key issues.
Our members are empowered to make informed choices and to take action on their own behalf.
"I can make positive choices about my health and wellbeing"
We promote mental and physical health and wellbeing through our services, events and products.
"My accommodation meets my needs"
We will work in partnership with key stakeholders to improve accommodation quality in Hull.
We provide excellent, value for money accommodation services.
Theme 3: My Union Services
"Union services meet my needs"
How will we achieve our goals?
We provide services that are relevant to every person studying at the University of Hull
Our students are able to influence the services we provide
"I understand how my union works as a social enterprise"
Our members understand that HUU is a social enterprise
We provide employment opportunities for our members to learn new skills whilst earning money
Our students are empowered to run events and activities in our spaces
"The Union building meets my needs"
We have a strategy for the long-term development of the Union Building at centre of student life on campus
Our building provides spaces for our members to meet, socialise and study
Our spaces are welcoming, safe and accessible for all
"I can engage with HUU even when I'm not in the building"
We have identified and provides key services which are accessible to all members, including those studying at a distance
We make best use of the digital environment to provide services to members on and off campus
Theme 4: My Development
"I have opportunities to develop"
We provide students with the opportunity to develop and grow through

Participation (clubs, societies, volunteering and representation)
Earning (through internships and part-time roles)
Connecting (through social events and involvement in memberships services)

Our members understand the skills and experience they've gained from their involvement with us
We provide students with the opportunity to develop relationships and networks with University of Hull Alumni
"I am recognised"
We celebrate the successes and achievements of our members.
Theme 5: My World
"I feel part of my local community"
Our diverse membership has a sense of belonging in their community
We are a key stakeholder and integral part of our residential communities
We offer our students a role and representative voice in community development and engagement
Our local communities recognise the positive impact that students have
Our members are aware of the range of activities and opportunities available in Hull
"I feel part of a community on campus"
We provide an attractive, inclusive and fun welcome for our new and returning members
We facilitate students creating vibrant and inclusive campus communities