Asylum - Celebrating Your Community
We're proud to have our very own award-winning nightclub and live music venue, right here at Student Central!
Asylum is home to Tower, the biggest and longest running student night in Hull and plays host to internationally renowned live music performers.
Whether you're a student at the University of Hull, a member of Hull's music community or just someone looking for a great night out, there's bound to be an event for you!
Check out our events page for full listings.
What's in a Name
Do you know why we called our nightclub Asylum? Have you noticed the names of our other spaces are called Sanc (short for Sanctuary) and Haven?
Hull has always been a city that stands up for humanity and isn't afraid of protecting those in need. Just look at William Wilberforce. We have chosen names for our venues that represent a safe space, a place of belonging and home, a home from home. As a Students' Union we are here to help you make the most out of your time at University and we want you to feel safe and looked after. Hence the name. So the name isn't referring to the old victorian asylums, but a space which offers sanctuary. We hope you like it and enjoy your time here with us!
Live Music
As a popular venue in Hull's live music scene, Asylum has joined forces with other prestigious venues to form Hull's City of Music campaign. Hull City of Music encourages the experience of live music within the community through attendance, participation and education, and to solidify Hull as a great city to visit for live music.
From big names, to up and coming acts, there's always something for you and your friends at Asylum. Past performances include Enter Shikari, Scouting for Girls, The Charlatans, Klaxons and Yungen, just to name a few!
Asylum welcomes and celebrates performers and fans from all genres. Check out our events page to see what's on.
Tower
It's no secret, we love holding events for Hull students, especially Tower! Asylum has years of experience in creating memories for Hull students and it's on campus location makes your night out super convenient and safe!
Every Wednesday, we invite all Hull students to Asylum for your weekly chance to celebrate in a space that feels like a home from home! Members of societies, sports teams, student groups or anyone who just needs to let off some steam, Tower is the event for you!
Playing the biggest modern hits, throwbacks and those familiar Tower anthems, Tower remains the biggest weekly student night in Hull. And if you fancy a real sing-a-long, there's Karaoke next door in Sanctuary Bar!
Tower has a history of theme nights too, so be sure to check out our events page to see what's coming up next!
More Events
Not only does Asylum host the biggest student night in Hull AND regular live performances from big name acts, there's more!
Bongo's Bingo
Asylum has partnered with Bongo's Bingo to provide you with their famously wild night of Bingo, but with some rather unique twists! Expect rave intervals, awkward dance offs, big money and ridiculous prizes. You won't have experienced a night like it before!
Visit the events page to book your place,
End of Year Ball
We celebrate the end of the year by throwing a huge party! Say goodbye to your friends for the Summer with a night filled with lasting memories and your best outfit.
End of Year Ball is a huge date on the student calendar, and one not to miss!
A Safe Space For You
Staying true to what the name means, we want to make sure your Asylum experience is as special as possible, we've teamed up with some amazing people! From arrival to getting back home, you're in safe hands!
LINKS
LINKS is a fully operational unit of St John Ambulance that you'll see at many Asylum events. It's run by students trained in roles from First Aider to Emergency Ambulance crew and everything in between so you can be sure, if an accident were to happen, you're in safe hands!
If you're a student interested in training with LINKS, visit the volunteering web page for contact details.
Ask for Angela
The Ask for Angela campaign was started in 2016 as a way to keep people safe through the use of a safeword. If you feel unsafe at Asylum, just head to the bar and ask our trained bar staff to see 'Angela'. They'll help you out of the situation in a safe way that avoids conflict.
Remember, if you're in a difficult situation or feel threatened, you can always ask for Angela.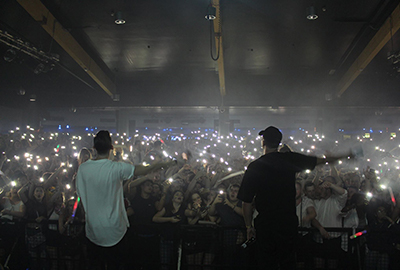 LIVE GIGS
Join us for some of the biggest nights and live acts in the city.
TOWER
Our weekly student night is where you can let your hair down and meet other students.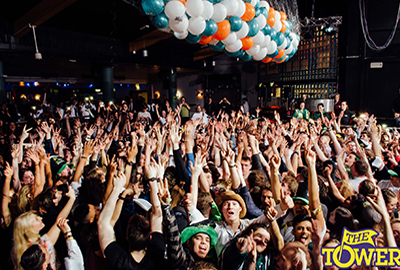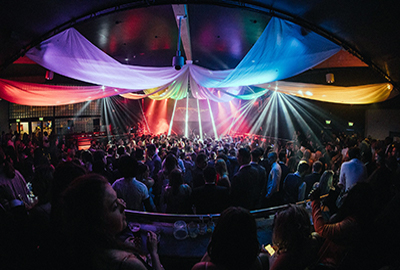 END OF YEAR BALL
Join us in celebrating your academic year with one of our biggest events of the year.